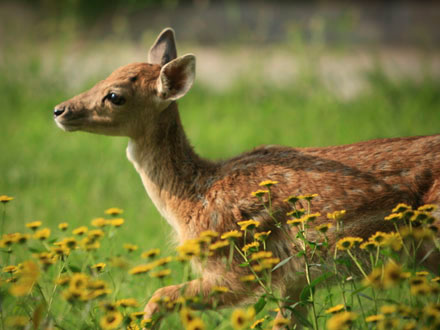 Deer Control: Facts And Deer Resistant Plants
There are some plants that deer will generally avoid: strong-smelling plants in the mint, geranium and marigold families; any plant in the daffodil family; toxic plants such as in the foxglove and nightshade families; plants with fuzzy, prickly or sharp leaves and most ornamental grasses and ferns.
The most effective way to keep deer away is to install deer-proof fencing. There are a variety of designs and the best type for any given area depends on your specific situation.
Fencing options include: plastic mesh, electrified polytape, woven wire and electric fence kits which come equipped with a scented lure.
Commercial repellents can be successful by making plants taste unpleasant to deer and woodchucks. Deer seem to respond best to sulfurous odors (i.e. rotten egg-based products), which appear to also be "fear-inducing" by giving off smells that deer associate with a predator.

Some fertilizers made from human sewage offer repellency if sprinkled on the soil and in clumps around the perimeter of your garden.
Facts

There is no such thing as a completely "deer-resistant" garden. A hungry deer will sample everything when the going gets tough. A fence is the only 100 percent solution.
In order for repellents to work best, use them before (or as soon as) you see damage.
Repellents must be reapplied every two weeks and after heavy rains to be effective.
Deer "Resistant" Plants
Annuals
Angelonia
Anisodontea
Cestrum
Coleus
Perilla
Petunia
Salvia
Torenia
Verbena
Vinca "Vinca Vine"
Shrubs
Buddleia
Buxus
Caryopteris
Deutzia
Hibiscus
Itea
Leycesteria
Rhamnus
Spiraea
Thuja (plicata)
Viburnum
Weigela
Perennials
Aster
Bergenia
Digitalis "Foxglove"
Eupatroium "Joe Pye Weed"
Euphorbia
Geranium "Cranesbill"
Heuchera "Coral Bells" or "Alumroot"
Lysimachia
Ophiopogon "Mondo Grass"
Pulmonaria "Lungwort"
Salvia
Santolina
Stipa "Mexican Feather Grass"
Tiarella "Foamflower"
Herbs
Dill
Mint
Rosemary
Russian Sage
Herbs

- Proven Winners