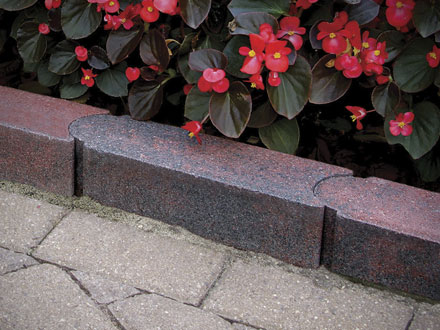 Installing Edgers
Tools
• Shovel
• Stake
• String
• Rake
• Rubber Mallet
• Level

Materials
• Edgers
• Paver Base


Follow these four steps below to install edgers
Step 1: Stake out & remove sod
Begin by staking out the project. For curved sections, use a garden hose to lay out the edging line. The depth of the trench is dependent upon how far above grade you want your edger units to appear.

Step 2: Clear areas of debris
Prepare trench by removing roots and rocks. Smooth and place 1" of paver base in the bottom of the trench.

Step 3: Lay & level edgers
Place edgers end to end in the base. Using a rubber mallet, tap the edgers firmly into place. Continue to place edgers until the desired length of the project is finished. By using a level this will help ensure your edgers are uniformly level.

Step 4: Cut edgers
Edgers may be cut easily to finish the end of a run by using a circular saw with a masonry blade. A hammer and chisel may also be used to cut edgers. Finish your project by raking the rock, mulch or dirt to the inside edge of the edgers.