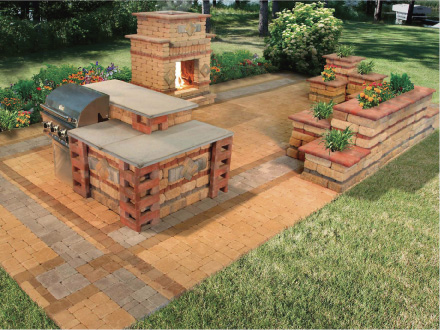 Outdoor patios can be anything from a plain slab of concrete to a beautiful outdoor oasis. Luckily, you can go from one to the other with just a weekend of effort and a few accessories.
When you design your outdoor patio space, consider sight, touch, sound, and smell to create the most interactive garden experience for you and your guests.

Match your home
The first and most important aspect to consider is how you want your patio to fit into the rest of your home. A major factor in the overall appeal of a patio is how well it matches the home. Create a patio look that flows well with your home, especially the room to which it connects.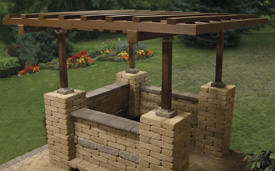 Add height

One of the best ways to complete the look of your patio is to add a vertical dimension, such as an arbor or pergola. A pergola is especially effective at bridging the gap between indoor and outdoor space. It also provides a beautiful setting for garden lights, candles, vines, and other unique garden décor.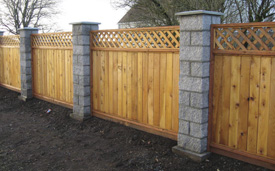 Create privacy

For many homeowners, a key to the comfort of a patio is its privacy. Anticipate where neighbors or passersby will be able to see the patio, and block off the view with a vine-covered trellis or a privacy shrub. If you plan to use your patio late at night when you might disturb the neighbors, a full privacy fence might be the best option to reduce noise.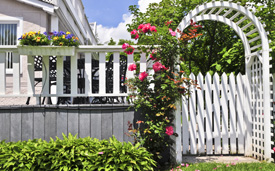 Choose fragrances that will appeal to everyone

Fragrant plants can create a peaceful, relaxing, or romantic environment for your patio. Dianthus, roses, hyacinth and lily-of-the-valley are all popular, fragrant and beautiful options. Bear in mind how much you are planting and how near it will be to where food is served. Lilac, though its blooms are short-lived, can be overwhelming near an outdoor dining area. Also keep allergies in mind if necessary, especially if you plan to entertain.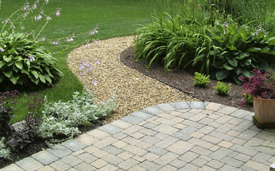 Create a border

To avoid the industrial look of concrete-meets-grass, add a border of annual or perennial flowers, perennials, or ground cover. If you don't want to be a slave to your outdoor space, choose low-maintenance plants that will grow to the appropriate size for the space and no larger.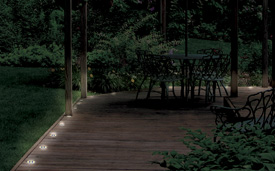 Incorporate lighting

Your patio should be a lovely, relaxing, useable space, day or night. Use solar or low-voltage lighting to avoid the cost of hiring an electrician and give yourself flexibility for future changes. A solar light outline around the patio can add both safety and ambiance. Twinkle lights or lantern strands can add an inexpensive but beautiful touch to any outdoor space. Dimmer lights will also attract fewer bugs. Make sure bright lights are located away from seating and grilling areas to keep the bugs at bay.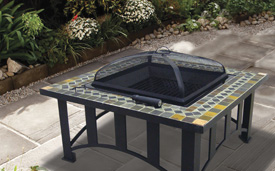 Add a fire pit

If allowed by your local ordinances, a fire pit can be a great way to add ambiance to your outdoor space, as well as extend your patio season. Many styles of fire pits and fire rings are available to add just the right touch to your patio - whether or not you have a fire burning.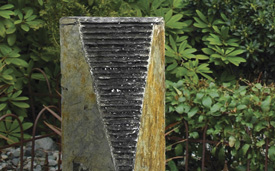 Create a sound garden

Especially important if you live in an urban or busy area, background noise can make a world of difference in your outdoor space. Consider what types of sounds relax you, and incorporate them into your patio area. Add a fountain for a trickling water background (such as Staircase Outdoor Fountain, 277-2820). Bring in plants that attract birds, along with bird houses and feeders, to hear the natural chirping of birds. Or place a wind chime nearby for the gentle tickling of musical notes.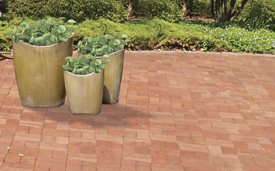 Incorporate container plantings

Container plantings are great because you can switch them up, move them around, blend nature into man-made, and add pop to any dull corner. Remember that the container is as important as the plant you put in it and choose colors and styles that complement the home, patio, and plant. Groups of three pots in varied sizes make great corner or edge décor.
With just a trip to Menards and a weekend of planting and decorating, your outdoor space can become a relaxing and beautiful area for your family and friends to enjoy.