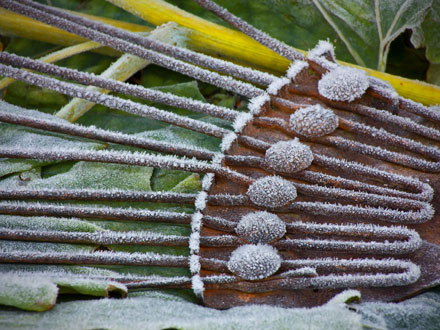 After you plant your fall bulbs and ready your garden for spring, you still have one important thing to do before you can sit back, relax and watch the snow start to fall. Cleaning and storing your garden equipment before winter comes can add years of life to your faithful gardening tools. Here are some tips on how to keep your lawn and gardening tools in tiptop shape while you wait for the sunny days of spring.
Keep it Clean
A good way to start winterizing your garden tools is to scrape off any hardened mud or dirt on handheld tools with a 1½ inch putty knife (561-5445). A putty knife helps remove any determined bits of dirt from the metal parts of your tools. If you want your tools to shine like new, soak your pruning shears and spades with the heads of your shovels and hoes in a basin of warm, soapy water. Dry all equipment with rags.
Prevent Rusting
While cleaning your tools is important, it is also important to prevent your tools from rusting. Rust is a common occurrence, and there are several easy ways to prevent it from developing on your garden equipment. Use steel wool (561-2820) or emery cloth (562-2830) to rub off any newly formed rust spots on your tools. After removing all visible rust, coat all metal segments of your garden tools with WD-40® (261-0653), vegetable oil or rust inhibitor spray (557-9915). By taking these protective measures, you are shielding your garden utensils from future rust and discoloration.
Sharpen Your Tools
Loppers, pruning shears, shovels and hoes dull after every use, so it is important to keep these utensils sharp. You can also sharpen your assorted garden tools with an 8" Bastard Cut Mill File (244-6556), a sharpening stone (243-3109) or a sharpening attachment kit (242-1680). However, some gardening tools require different sharpening procedures.

For Shovels and Hoes:
Place your sharpening tool on the leading inner edge of the blade, near the tip.
Slant the file, or stone, at a 45° angle on the backside of the garden tool near the tip.
Apply pressure to the file and make a series of quick, uniform movements over the blade in a single direction.
Carefully check the sharpness of your shovel by running a finger along the edge.
For Pruning Shears and Loppers:
Disassemble tool by loosening the bolt that holds the blades together.
Sharpen your pruning tool by laying a file flat against the beveled edge of the blade.
Run your file along the outer edges of the blade with one long, smooth stroke.
Continue to sharpen the entire length of the beveled edge until you are satisfied.
Flip the pruning tool over and file the back of the blade with gentle strokes.
When you are finished sharpening, rub sandpaper over the edges to smooth out edges.
Fix Potential Problems
As you clean and sharpen your garden tools, keep an eye open for any potential problems with your current lawn and gardening tools. Inspect the wooden handles of your rakes, shovels and hoes for any splintering or irregularity. You can salvage these tools by rubbing paste wax (555-7655) or linseed oil (561-3829) on the handles. If any handle looks unsafe to use, swap it with a replacement handle.
Bring it Inside
As you start to store all of your garden tools for winter, remember you also need to winterize your garden hose. Turn off your water valve, disconnect your hose and store it in your garage. Make sure you drain the hose of all excess water and coil it in a way so it doesn't twist or kink. As you're gathering your hose up, look for any scratches or knots. If you spot any major damage, repair it with a hose repair kit or buy a new one.
Tend to Your Lawn Mower
Do you want to improve the performance of your lawn mower or extend the life of your mower? By giving it some needed maintenance in the fall, you can do just that. Before you store your mower for the long winter, remove any lawn clippings around the blade. Carefully wash and dry the underside of the mower so the blades won't decay or rust. Also, remember to remove any leftover gasoline from your lawnmower with a siphon (261-7434). If unused gas is left in a mower over winter, it can clog the carburetor and cause rusting. To further reduce residue buildup, add Marine STA-BIL® (261-6598) to your gas tank.
Tip: A great way to organize your gardening tools is by putting different colored tape on the handles of your rakes, shovels, and hoes. With various colors of tape, you can create a color-coded system that allows you to find the tool you want when you want it.
Did You Know? Eggplants are members of the potato family. – Burpee Home Gardens