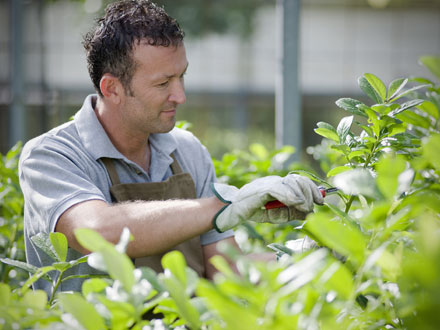 Although growing annual flowers and starting hearty vegetable seeds outdoors is impossible during the winter season, you can grow tender and tropical plants during winter in a greenhouse. With the use of a greenhouse, you have complete environmental control of your plants and produce, preventing possible infestation and disease. Whether you're starting your seeds early or overwintering weathered plants, a greenhouse allows you the opportunity to garden year-round.
Benefits to Greenhouse Gardening
With the use of a greenhouse, avid gardeners can grow healthier and hardier plants and produce in colder temperatures and fluctuating weather conditions. Unlike typical outdoor gardens, greenhouses are equipped with glass or clear plastic walls to minimize the destructive effects of outside weather on budding flowers and vegetables. In fact, disease, insect infestation and weak plant growth are typical products of unpredictable weather. Here are a few benefits to growing in a greenhouse.
Optimum Growing Environment for Plants
By growing your plants in a greenhouse, you can mimic outdoor growing conditions in a more controlled climate. When in their formative weeks, plants need more than just moist soil and constant sunlight to properly grow; they also need constant warmth and high humidity which only a greenhouse can provide. Since you control what goes in and out of your greenhouse, the threat of pesky insects and weeds are nonexistent, guaranteeing vigorous plant growth. A greenhouse can be a great asset to starting new seeds and keeping mature plants growing.

Extend Your Growing Season
Since you control the environmental factors of your greenhouse, you can extend your growing season well through winter. By stocking your greenhouse with some grow lights (353-1382, 1406) and a fan (193-7376), you can successfully grow plump produce and start seedlings all year long, regardless of weather and climate. As most greenhouses contain sturdy frames and durable cover panels, inhospitable weather conditions like battering winds and excessive rainfall will not ruin any of your promising plants. No matter what the weather might be like, you can grow seasonal flowers and vegetables whenever you want in a greenhouse.
Important Greenhouse Growing Considerations
Like traditional seasonal growing, winter greenhouse growing depends on the same basic requirements: sunlight, climate conditions, soil and water. Although plants have a higher chance of germinating in a greenhouse, your rate of success depends on how well you to tend to each of these important factors.
Reclaim the Light
During the shorter and darker days of winter, you must find a way to maximize light in your greenhouse even when natural light is not readily available. Although sunlight is limited, your seeds can be revived with the use of fluorescent grow lights. To ensure that your seeds attain the maximum amount of continuous light, suspend some grow lights 3 to 4 inches directly above your raised beds or position some clamp-on lamps with fluorescent bulbs nearby. Then, synchronize the grow lights to a digital timer (368-1726) so they will automatically turn on at dusk and off at dawn. By using specialized grow lights in your greenhouse, you can extend the day without overheating your developing seedlings and increase your plants' overall productivity.

Encourage Air Circulation
Even though a greenhouse is an enclosed environment free of pest and disease problems, you need to be able to supply your plants with a steady stream of fresh air by encouraging air circulation. Not only does constant air movement result in uniform humidity levels and temperature, but it also promotes sturdier stem growth. When the outdoor temperature dips below 50º F or the inside humidity level exceeds 70%, you must generate some gentle air flow through either natural or mechanical ventilation.
Natural Ventilation
Small, collapsible greenhouses use natural ventilation to circulate air with retractable screened roof and side panels. When the panels are removed, the warmer air escapes through the top while the fresh cool air spills in through the sides, retaining heat and moisture.

Mechanical Ventilation
Larger greenhouses made of polycarbonate panels require mechanical ventilation. This type of ventilation uses exhaust fans or power fans to move air out one end of the greenhouse while the outside air enters through the side or roof vents (277-2228).
Provide Food & Water
As the outside temperature starts to drop and the threat of plant disease increases, it is very important that you supply your seeds and sprouts with sterile soil and the correct amount of water. When you apply a medium mix to your individual pots, raised benches and/or growing beds, make sure you use a lighter mix that drains fast and holds moisture well. In a greenhouse, you should usually use soilless mixes (266-7665, 7646, 7663, 5763) because they don't contain any microbial organisms that promote soil-borne disease. You can also prevent root rot and damping-off by watering your plants only when the soil shows signs of drying out. Since the surface of the soil is often misleading, consider placing a moisture meter (277-9988) in your larger plant groupings to constantly measure the moisture level of the soil.
Want to learn more about winter gardening in a greenhouse? CLICK HERE to learn about which plants grow best in winter and how to maintain heat in your greenhouse!