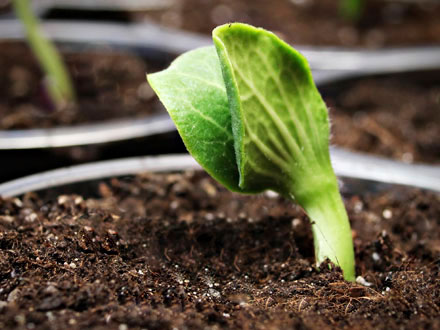 Getting Started: Planting and Gardening
Starting out your garden can begin anytime, even the winter months. You can get a head start on your garden by growing seeds indoors using pots or even disposable containers, which you can throw away when you replant outside. Choosing the right soil, seeds and pots are your first steps to successful planting and gardening.
Learning the difference between potting mix and potting soil will help your garden become a success. Potting soil may contain some top soil or dirt, organic material and tree bark. You can use potting soil to help growth in bare patches in your lawn and to fill flower or garden beds. Potting mix contains little or no dirt. It is a sterile mix of composted material, sand, peat moss, fertilizer and drainage material. It is good for drainage, root growth and air flow and to be used when planting seeds or root cuttings in container gardens. For outdoor window boxes or planters a combination of both potting mix and soil will give you the best result.
Choosing seeds to start your planting and gardening requires a little planning. Deciding on the type of plants and garden you are looking to have will determine the seeds and when you should plant. Different types of plants require different planting times. The back of seed packets will provide you with specific information to each type of seed. An example would be to plant asparagus in the early spring and cucumbers between May and June. Flowers can be planted throughout the year depending on which type of flowers you are looking to plant.
Choosing the right pot for indoor plants and seed starting plays a large roll in the success of your plants and gardens. The most important decision is the size of the pot depending on the type of plant or seeds you are growing. You will want a small pot for smaller plants and anything with close-knitted roots so the roots squish together when growing. If you have large plants or anything with roots that spread out you will want to choose a large pot.
Your first steps to successful planting and gardening are choosing the right soil, seeds and pots. Once these are done and you have begun your planting take note that indoor plants in a pot need more attention. A pot is an isolated environment and your plants will want to reach down to get water, so remember to pay attention to the amount of water each plant or seed needs.
TIP: Plant when the soil is warm, not just the air and set plants in the ground the same depth they are in the container.